周周美食
Old-Fashioned Chicken Noodle Soup 美式鸡汤面
*这是一款传统的美式鸡汤面。在寒冷的冬天,Au pair 如果为孩子们准备这样一款晚餐,他们会更爱你的。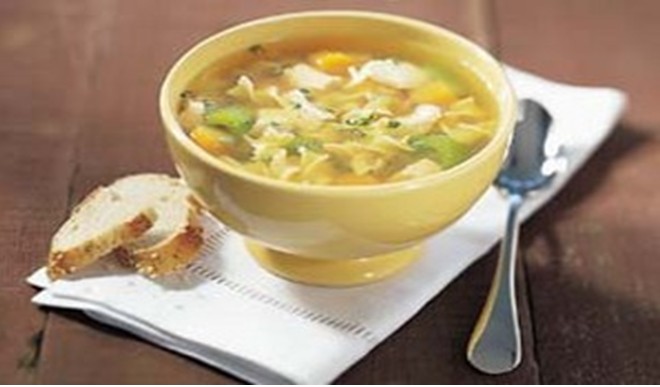 烹调时间:
• 1个半小时
• 6人量
菜谱由Williams-Sonoma 提供。
用料:Ingredients
• 1 tablespoon canola oil 1 汤勺菜籽油
• 1 chicken, 3 1/2 to 4 pounds, quartered 1只肉鸡,3 1/2 到4磅重,分成四块
• Salt and freshly ground pepper, to taste 盐,黒胡椒
• 2 large yellow onions, cut into 1/2-inch rounds 2只黄洋葱,切成1/2英寸的小块
• 4 large carrots, peeled and cut into 1/2-inch rounds 4根红萝卜,去皮后切成1/2英寸的小块
• 1 bunch celery, tops and bottoms trimmed, cut into 1-inch chunks 1磅西芹,去头去尾,然后切成1英寸的小块
• 4 cups low-sodium chicken broth 4量杯低盐鸡汤
• 2 quarts water 2夸脱水
• 1 bay leaf 1片月桂叶
• 2 fresh thyme sprigs 2片百里香
• 1/2 teaspoon ground coriander 1/2茶勺芫荽粉
• 1/2 pound dried fettuccine, broken into 2-inch pieces &frac12磅意大利干面条,2 英寸长
• 1 tablespoon finely chopped fresh flat-leaf parsley 1茶勺切碎的扁叶欧芹
Preparation
1. In a large stockpot over medium-high heat, warm the canola oil. Season the chicken with salt and pepper. When the oil is hot, add the chicken pieces, skin side down, and cook until well browned, 4 to 5 minutes per side. Add the onions, carrots, celery, chicken broth, water, bay leaf, thyme sprigs and coriander. Bring to a boil, reduce the heat to medium-low and simmer gently until the meat is nearly falling off the bones, about 1 1/2 hours. Discard the bay leaf and thyme sprigs, transfer the chicken to a colander and let cool to the touch.
把炖锅放在中火的炉子上预热,加菜籽油。用盐和黑胡椒略腌鸡肉。油热后,放鸡肉,煎约10分钟至鸡皮发黄,然后加洋葱、红萝卜、西芹、鸡汤、水、月桂叶、百里香、芫荽粉。汤开后,转至低火慢煨1个半小时,直到鸡肉离骨。然后把月桂叶和百里香捞出来扔掉,把鸡肉放到滤碗里,冷却。
2. Meanwhile, in a large pot two-thirds full of boiling salted water, add the pasta and cook according to the package instructions. Drain the noodles in a colander and cool under cold running water set aside.
另起一个大锅,放入2/3的水,烧开,然后加盐,加面条,烹煮时间参阅面条包装说明。煮熟后,捞出,放入滤碗,用冷水冲洗冷却,然后放置在一边待用。
3. Remove the chicken meat from the bones, discarding the skin and bones, and cut the chicken into 1/2-inch pieces. Skim the fat from the broth and return the chicken to the pot along with the pasta, salt and pepper. Cook, stirring, until the pasta is heated through, 3 to 4 minutes. Adjust seasonings as needed, stir in the parsley and serve immediately. Serves 6.
把凉冷的鸡肉去骨,去皮,然后把鸡肉切成1/2英寸的小块。去掉炖锅里的浮油去掉,然后把切好的鸡肉、面条、盐和黑胡椒放入锅内,加热3-4分钟,直到面条热透,中途搅动数次。酌情另添喜欢的调料。最后加入切碎的扁叶欧芹。上桌,开饭了!